Trans Panic! At The Disco: Involuntary Culture War Martyrs
Last updated on 22 Mar 2023, 9:12pm
5 min read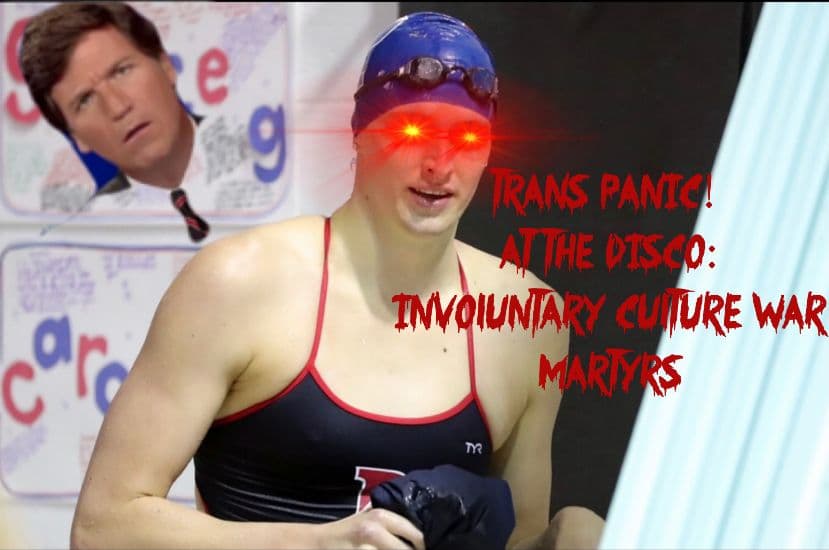 (Ask me about my Tucker Carlson pretending to care impression)
When Emma Weyant placed second at the 2022 NCAA Division 1 Women's 500-yard Freestyle Championship, I doubt the Florida-born swimmer expected to be at the center of a national culture war. Weyant lost to Lia Thomas, the trans swimmer you've likely heard your uncle, who all of a sudden has taken great interest in women's sports, talk about nonstop.
The Florida-born Weyant swam for the Sarasota Sharks before going on to win the silver medal for 400-meter individual medley at the Tokyo Olympics. I reached out to her to see if she'd want to talk about what's happened. She did not respond. In fact, she has not responded to any press or political media inquiries. So only Emma and the people she trusts know how she really feels about all this.
But that hasn't stopped others from using her predicament as fodder for their own ends. Governor Ron DeSantis signed a proclamation declaring Weyant the true winner of the race. Colorado Representative Lauren Boebert introduced House Resolution 106, co-sponsored by 22 of her colleagues to recognize Weyant as the rightful winner of the race against Thomas. Cable news shows aired segment after segment with clips of Weyant and mourned the sanctity of women's sports. She's become a martyr for media and politicians, but it's unclear if she wants to be the face of their cause.
For Weyant's sake, I hope she never says anything at all. It does her no good to enter this foray. No matter what she says, she will invariably piss off some group in this culture war battle. Some people are even mad at her for keeping mum, claiming her silence is somehow transphobic.
Even if she wants to speak, maybe she is prohibited by her school, the University of Virginia or the NCAA. Maybe Tucker Carlson has a direct line to her and is saying everything she wants to say, but can't. Maybe I am guilty of doing the very same thing—speaking on her behalf. If Weyant wanted, she could quickly turn this story into a financial windfall for herself. She could start a GoFundMe or write a memoir or go on some speaking tour and pull in a cool million. It makes more financial sense than pursuing a career in swimming.
An Olympic swimmer nets about $25k if they win a gold. So once every four years just a select few swimmers can maybe make some change. According to MySwimPro.com, eight swimmers made over $100,000 during the 2020 season of the International SwimLeague (the NBA for swimmers), but the majority of the 300 participating athletes earned just between $10k and $30k. There can only be one Michael Phelps.
Only one swimmer who has raced against Lia Thomas has spoken out. Riley Gaines, the University of Kentucky swimmer who tied 5th with Lia Thomas in a separate race, has been the sole NCAA athlete to speak out. She told her story on 'Tucker Carlson Tonight' just this week:
Gaines tells Tucker that even though she and Lia tied, the NCAA insisted that Lia hold the fifth place trophy instead of her. "The NCAA said 'Lia needs to hold the trophy,'" Gaines claims. I found this funny. They give out fifth place trophies? I always thought we were trying to encourage our kids not to want participation trophies. But the calculus on Gaines's part makes sense. She's got no real future in women's swimming, so her best angle is to become an outspoken subject for conservative media to milk.
The truth is that the fairness of Lia Thomas is not for Emma Weyant or Tucker Carlson to decide. That's why sporting institutions like NCAA exist. This is the first instance of a trans woman beating a "cis" (meaning cisgender, or the gender you are assigned at birth) woman at a Divison 1 event. There are already rules that exist that determine whether trans women can compete in the NCAA. Lia Thomas adhered to those rules.
Whether this is an aberration or an unfair new normal that is destroying the sanctity of women's sports is too early to say. We just simply don't have enough data. According to a 2015 review in the British Journal of Sports Medicine, the author Joanna Harper, who is a trans woman and middle-distance runner, advised and convinced many sporting federations, including the International Olympic Committee, to reduce the stringency of their inclusion criteria, and make it easier for trans women to qualify for female categories.
But then, in 2021, she published another review. This time she found that,"Hormone therapy decreases strength, LBM [lean body mass] and muscle area, yet values remain above that observed in cisgender women, even after 36 months. These findings suggest that strength may be well preserved in trans women during the first 3 years of hormone therapy." In other words, even after three years of hormone therapy, trans women maintain an athletic edge on cis women. The NCAA currently requires one year of hormone therapy in order to compete in women's sports.
I still think it's too early to ring the alarm. When and if trans women start beating cis women at a disproportionate rate, we can address this issue by adjusting the rules accordingly.
Why this sudden interest in women's sports? Whenever I see some dude weeping on Twitter about women's athletic programs, I want to ask, "Oh, you're worried about the future of women's sports? Tell me, who won the last WNBA championship?" I doubt any of our politicians or media pundits could name three players on the U.S. Women's National Soccer Team. But they all know Lia Thomas's name. In fact, by repeating her name and vilifying her, conservatives are unwittingly going to turn Thomas into a rich celebrity. Now that she's a villain of the right, that will make her a hero on the left. Their obsession will win Thomas endorsements and book deals.
But what will happen to Weyant? Once the media sucks the blood dry from this outrage and moves on to the next one, she will be all but forgotten. Unless she serves the culture war gods, they will have no use for her.
However complicated and unfair trans women competing in sports could be, and whether sporting bodies come up with an equitable solution (a trans sports league?), using these real people as pawns in an insincere culture war is the most shameful thing of all. Maybe Emma Weyant just wants to swim.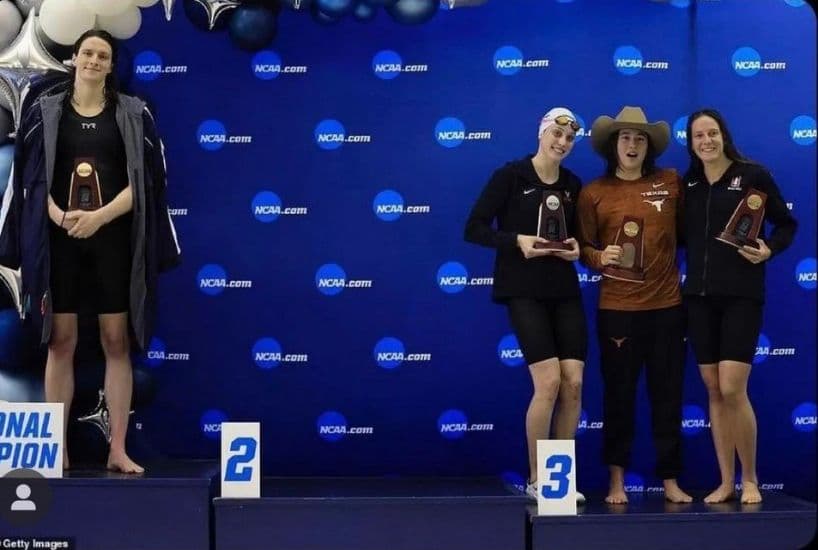 (Lia on the left, the other three swimmers are apparently Olympic team friends. Do not psychoanalyze.)