The Ghislaine Maxwell Verdict: A Miscarriage of Justice
Last updated on 22 Mar 2023, 9:12pm
8 min read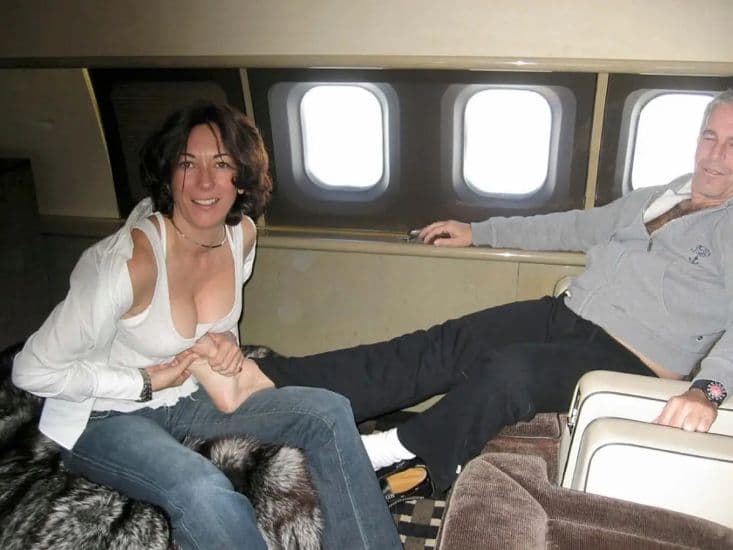 On Tuesday afternoon,
a federal court in New York City sentenced Ghislaine Maxwell to 20 years for her role in the sex trafficking and sexual abuse of underage girls. That means the 60-year-old Maxwell will be free at 80 (unless Maxwell's appeal is successful).
The sentence is significantly less than the 30-55 years prosecutors asked for, but more than the laughable 51-63 months' sentence the defense argued for. A life sentence it is not, but justice is still served! Right? Maxwell will spend the majority of her waning years in federal prison.
The
Miami Herald
celebrated the verdict with this
lead
:
In a turn of events many of her victims thought impossible, Ghislaine Maxwell was sentenced to 20 years in prison Tuesday for recruiting and grooming girls to be sexually abused by her former boyfriend, the financier Jeffrey Epstein.
The Herald's article might have you believe that this is a victory for the victims of Epstein and Maxwell's crimes. To hit the point home, they quoted a former prosecutor who called the result a "triumph." 
Except that this verdict is absolutely not a victory for the victims of sex abuse, but rather a massive win for the sexual blackmail network that employed Maxwell and Epstein. For over 25 years, thousands of girls (and boys) were sex trafficked by Maxwell and Epstein, but not solely for the couple's own perverse pleasures. Maxwell and Epstein were pimps for the powerful. A brief glance at Epstein's infamous "black book" reveals the names of presidents and prime ministers and billionaires and academics who never faced any legal consequences. They can now breathe easy because the case is closed (Bill Gates got divorced and lost half his wealth for his close relationship with Epstein, but that's interpersonal and doesn't count). With Epstein dead, Maxwell was the last hope to expose the pedophile network. But with this conviction—and Maxwell's silence—the two have now fully fallen on the sword on behalf of a much larger nefarious operation that remains unnamed and unpunished. Epstein and Maxwell did not invent sexual blackmail, and the practice will not die with them. 
Is it even surprising anymore that the Miami Herald (and NYT and Washington Post and every other major news outlet) would cover the event in this manner? Brushing their hands and patting their backs, well, that's the end of that! 
What the Herald could have done is remind the public that for decades, the state of Florida helped protect and cover up Epstein and Maxwell's crimes. 


Don't forget to subscribe! Just think of it this way--If you give me $5, the next time you see a panhandler you can say, "Not today, friend, I already gave some money to a bum." Your conscience will be clear. Guilt free!
OK, continue reading...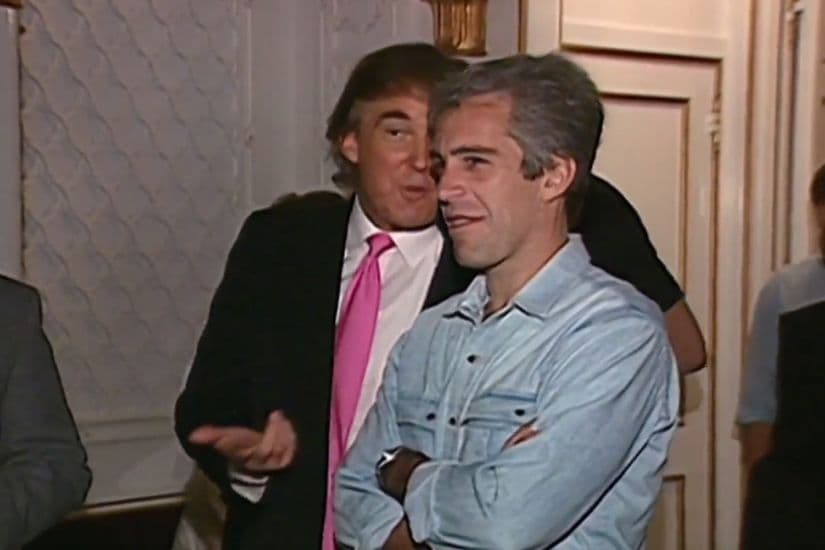 (Epstein partying at Mar A Lago in Florida)
Florida was central to Epstein's international sex trafficking and pedophile network and the government went above and beyond to protect him. 
Florida is a place where you can do your dirty things. It was Epstein's perverted pied a terre. He bought a mansion on 358 El Brillo Way in Palm Beach in 1990. It's a five-minute drive from Mar A Lago. This home would become one Epstein's preferred places to molest countless young women. And it wasn't a secret.
The first report of abuse was back in 1996 when teenage sisters Marie and Annie Farmer told the FBI about Epstein's sexual behavior, but nothing came of it. The first time law enforcement would earnestly investigate Epstein was in Palm Beach in 2005 when a 14-year-old girl and her parents told the Palm Beach Police Department that she had been molested in Epstein's mansion. The PBPD investigated further and compiled the statements of five children who alleged Epstein molested them. Police were also aware of 17 additional victims. An arrest warrant was written up charging Epstein. But then Palm Beach state attorney Barry Krischer intercepted the warrant and brought it to a grand jury instead where he would preside as prosecutor. 
The grand jury would end up being a farce. Krischer only called one of Epstein's many victims to testify, though he was aware of many others. They would end up charging Epstein on only one count of soliciting prostitution, which is insane because not only were all the girls not prostitutes, but you can't solicit someone for sex who is not an adult. That's just rape. To justify their decision to charge Epstein with a second degree misdemeanor, the prosecution said it was because the victims gave "conflicting accounts." One victim said Epstein used a purple sex toy on her, while another said the sex toy was white. That appeared to be enough to "convince" the state attorney that these girls were liars.
The Palm Beach Police Department was so furious with the state attorney's treatment of of the case that the chief of police took the evidence to the federal government. But that, too, would turn out to be a joke. The case was brought to Alexander Acosta, United States Attorney for the Southern District of Florida, who would eventually become Trump's Secretary of Labor. In 2008, Acosta and the Justice Department then approved a non-prosecution "sweetheart" deal for Epstein, sentencing him to 18 months in county jail, of which he only served 13 months. And even those 13 months couldn't possibly be considered hard time. Epstein was given an empty part of the Palm Beach County Jail where he was allowed to roam freely and permitted to leave his cell and go to his Palm Beach office for 12 hours a day, six days a week.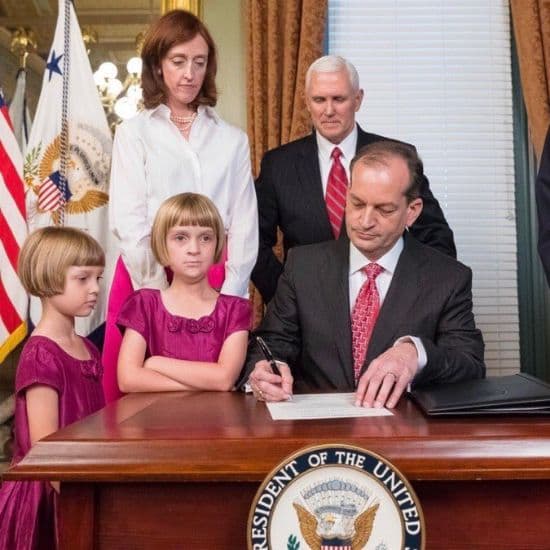 (Alex Acosta and his very normal-looking family)
On top of that, investigator Nick Bryant, who is responsible for discovering and publishing Epstein's black book, pointed out, "The assistant U.S. attorney prosecuting Epstein, Ann Marie Villafana, also colluded with an Epstein attorney to ensure that Epstein not only received this deal, but also a federal non-prosecution agreement that granted immunity to all of his co-conspirators, including procurers and perpetrators."
Why was Epstein given such a bizarre non-prosecution deal? In an interview for the job with the Trump administration in 2017, Acosta was asked, "Is the Epstein case going to cause a problem [for confirmation hearings]?" Acosta responded, "I was told Epstein 'belonged to intelligence' and to leave it alone." In other words, Epstein was an intelligence asset and was protected by the US government. 
Journalist Whitney Webb makes the case for Epstein's intelligence ties here.


RON DESANTIS AIDS IN THE COVER UP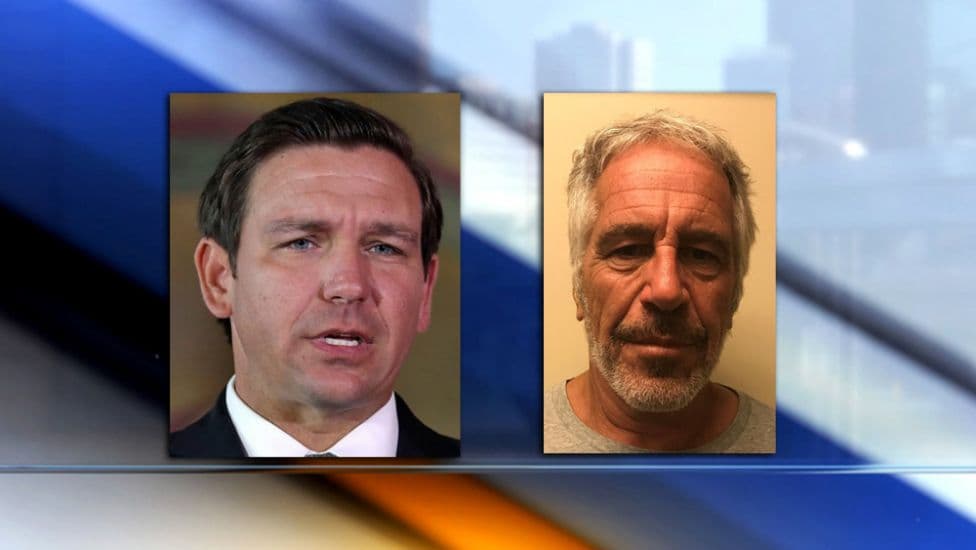 Remember the whole Pizzagate thing? In August 2019, QAnon was still in full force and Epstein was in a New York prison awaiting trial for his sex crimes. Newly elected Florida Governor Ron DeSantis, due to pressure from Julie K. Brown's explosive reporting on Epstein for the Miami Herald (what a fall from grace for this publication), ordered an investigation into the unusually kind treatment Epstein received at the hands of the Florida judicial system. Epstein would "kill himself" just a few days later.
In 2021, the Florida Department of Law Enforcement's investigation came to its conclusion:
The report cleared the Palm Beach County prosecutors and sheriff's officials of any criminal wrongdoing. Their "findings" claimed that former State Attorney Barry Krischer and his prosecutors were not "coerced, bribed or engaged in any criminal activity in the performance of their duties." While the report concedes that it "appears that Epstein received differential treatment" while in custody, state investigators nevertheless concluded that, "Epstein met all the criteria for work release that were set by the county sheriff." That mean the state of the Florida believes it's totally normal to let a pedophile walk in and out of jail, get picked up in a limo and driven to his West Palm Beach "office" at his leisure. There's no way you can convince me that a degenerate sex addict like Epstein wasn't still molesting underage girls while he was supposed to be serving time in prison.
That DeSantis's FDLE found no wrongdoing whatsoever means one of two things—that either our institutions are turning a blind eye or that the system is designed to work in precisely this manner.
If you ask me, the only explanation is that Epstein is a protected intelligence asset. Sexual political blackmail is as old as the United States. Thomas Jefferson blackmailed rival Alexander Hamilton way back when (how come Lin Manuel Miranda didn't rap about that?). The mafia used love traps in the early 20th century and the CIA adopted them and folded the practice into every level of US government to the nth degree. Epstein's documented relationship with powerful figures like Bill Clinton, Donald Trump, former Israeli Prime Minister Ehud Barak , New Mexico Governor Bill Richardson, attorney to sociopaths Alan Dershowitz, Maine Senator George Mitchell, billionaires Les Wexner and Leon Black, and countless others reveals an intimacy with the western world's ultra elite. You think they were all just friends?


LETTING A CRISIS SLIP THROUGH OUR FINGERS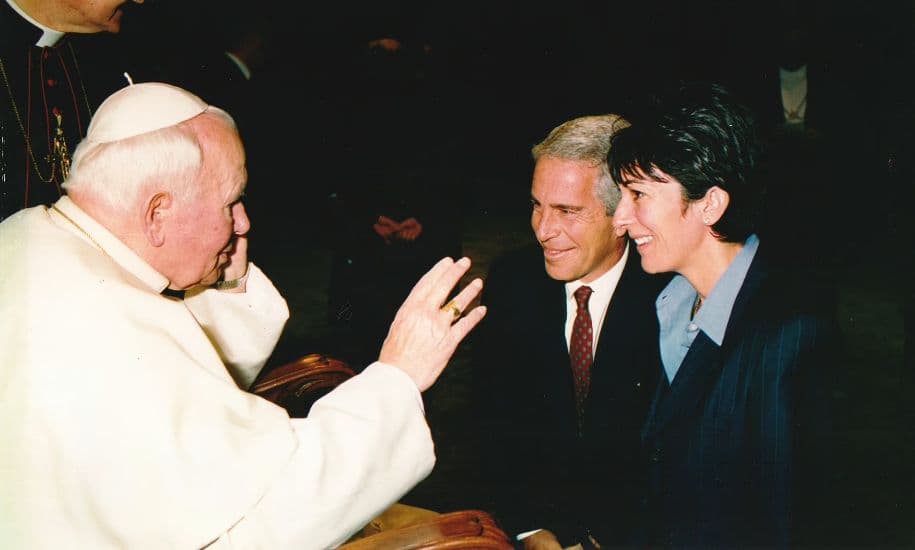 (It's beautiful to see people of all faiths get along)
We are already witnessing the blowback of letting the Epstein network get away with it. Gov. DeSantis's talk of "groomers" sexualizing Florida's children is a viable political tactic because there is some sick sex shit going on in our institutions. But instead of rooting out the evils of child sex abuse done by the powerful people of this country, populist ire is directed at marginalized gay public school teachers.
It's a crying shame that we let this galvanizing event go to waste. Maxwell is just another loose end tied up. There are no other criminal court cases involving Epstein's pedophile network on the docket. Legally, they got away with it. And it's the media's responsibility to keep this story alive and in the minds of the public. Instead, they are writing their codas. The Epstein moment could have been used to unite the public against a system rotten to its core. If any good-hearted politician promised to open an investigation into the life and death of Epstein, they would have received tidal waves of bipartisan support. But Epstein is dead. And Ghislaine is behind bars. And now we have to wait for news of the next unimaginably awful systemic sex crime to root out this institutionalized evil and achieve real justice. 




Hey, sir, could you spare a $5 subscription?